Home
Aristocrat Slots
Playtech Slots
History of Slots
Slot Myths
Disclaimer

Wild Witches is a new video slot brought to you by Mr Green Casino. Free spins, scatters and not 1 but 2 wild symbols!
Go to Mr Green Casino to Play
Playing Blackjack Online
Newcomers to playing blackjack online are well advised to bone up on basic strategy before investing too much money.
On the face of it, it is not too difficult to decide whether to stand or take another card because everyone knows the object is to get 21 or as close as possible.
Even those people who have only ever played a hand or two of pontoon around the family table will have a clear idea of where they draw the line. Most people, when there are only a few pennies at stake in a social game, would probably stick on 17 or higher – some would stand on 16.
The difference online is that you get a chance to treble your money, rather than just double it, on certain hands.
A very common scenario where this happens is when you have two cards of matching value. A pair of aces up to nines, and any two picture cards count.
Now, in an online casino, you have a decision to make – not just stand or hit, but also whether to split.
Here, the player has to place a second bet, identical to the first, next to the original wager and the dealer splits the two cards to create a second hand.
Rules of splitting include that there are no blackjacks. If you draw a queen on top of an ace, it's 21 and not blackjack.
Another standard rule is that if you split aces, you only get one additional card for each split hand.
Sometimes, you'll be able to re-split. If the cards of a post-split hand are also the same value, you can usually split them again and place a further wager on the new hand.
It's worth checking out websites that offer guidance as to when to split and when not to, because statistically it is not always a good idea.
As a general rule, though, splitting aces and eights is always advisable.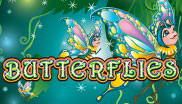 Butterflies Slot is a new 25 payline, 5 reel slot from Vegas Technology with fairytale graphics. The Butterfly Feature is triggered when the House Symbol appears on reel 1. A Butterfly will fly across the reels and randomly change symbols into the wild house, which substitutes for all other symbols except the scattered Flower.
Play Butterflies Slot at
Party Casino