Home
Aristocrat Slots
Playtech Slots
History of Slots
Slot Myths
Disclaimer

Wild Witches is a new video slot brought to you by Mr Green Casino. Free spins, scatters and not 1 but 2 wild symbols!
Go to Mr Green Casino to Play
Safecracker Slot - Playtech Slot
Safecracker is one of the more aesthetically pleasing three-reel, one-pay line casino slots on the market today. The screen itself is the front of a bank vault and the three reels are part of a bomb wired up to the activator, which shows your current betting amounts.

The game has been created by software developers at Playtech and it can be played for fun or for real money. The beauty of Safecracker is it also has a progressive jackpot and bonus feature, something those who play slot games regularly will know is unusual for three-reel, one-pay line slot machines.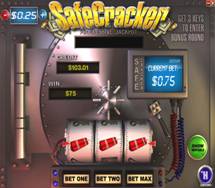 Screenshot of Safecracker Slot Bonus
You can play for denominations ranging between $0.05 and $5.00 per spin with up to a maximum of three coins. Although you can play the game for fun, to qualify for the progressive jackpot you must be playing for real money and also betting maximum coins. The current value of the progressive jackpot is always shown at the top of the screen. A certain percentage of each bet is set aside for the progressive jackpot pool. The player who manages to hit three, dollar bill symbols on the pay line while playing maximum coins will win the progressive jackpot.

The game also contains a Safecracker Bonus Feature. This feature is activated when you hit three key symbols across the pay line. When activated you are taken to the bonus feature game and you will need to select one of a variety of safety deposit boxes to reveal your prize.
Safecracker is a visually pleasing, simplistic, slot machine game without the monotony of normal standard three-reel one-pay line video slot machine games.
Play Safecracker Slot at The Following Playtech Casinos:


Steinfest is a Microgaming slot.
Get yourself a Beer Chug Bonus, munch through 5 reels of Bratwurst and pretzels and win up to
40,000 coins.
Play Steinfest Slot at